R8 Gordini, le temps des copains
Finally an accessible sports car! It is in 1964 that with the Living room of Paris R8 Gordini in its delivered blue appears to white bands. Amédée Gordini had bewitched of it the engine which developed 95 CV for a dash speed of 170 km/h. It is into 1966 that already popular R8 Gordini is equipped with one 1300 of 103 CV credited a maximum speed of 175 km/h. The small blue one presents with a grill four headlights, an additional tank, a 5-speed gearbox, and will enchant a whole generation of pilots, to as well reveal talents in the road competitions as within the framework of the Cut R8 Gordini.
Bonus DVD :
Jean Vinatier's portfolio with the R8 Gordini from 1964 to 1968.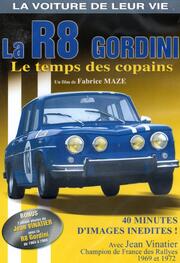 Produced by Seven Doc - Gemka - Screen Services
Out in 2,000
Director Fabrice Maze
Video format 4/3
PAL / Stéréo
Available languages :



Available subtitles :




Réf : GCB178