La Lancia Stratos, avec Bernard Darniche
It is with the salon de Turin 1971 that the Bertone carriage-builder presented Lancia Stratos, a prototype of car of competition developed by Marcello Gandini. From 1975 to 1981, it was for Bernard Darniche, the true septennate of the state of grace. Thanks to the stable assembled by Andre Chardonnet, it gained, with his friend and blue copilot Alain Mahé at the wheel of Stratos, 41 victories including 4 world. Twenty years after, Darniche remembers its victories. For our pleasure, he invites us to the control of this sublime Stratos which will remain forever in the heart of impassioned rallys.
Bonus DVD :
Interviews d'André Chardonnet, jacques Bonne carrière, Bernard Spindler, des mécaniciens Roland Arena et Jacques Dlmas, du motoriste Claudio Maglioli. Making of du film.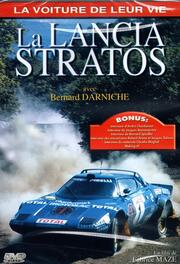 Produced by Seven Doc - Gemka - Screen Services
Out in 2,001
Director Fabrice Maze
Video format 4/3
PAL / Stéréo
Available languages :



Available subtitles :




Réf : GCB177