Jaguar MK2, le félin éternel
At the same time luxurious and sporting, beautiful and racée, it was in the Sixties the fastest truck of the world. It remains the incomparable one produced of a tasty cocktail of discrete elegance and velvety power whose William Lyons, the founder of the mark held the secrecy. Bernard Consten makes us discover, in company of his guest Rosinki, all the charm and the effectiveness of this fantastic truck in his Tour version of France, that which it regards as the first GTI of the history of the car. It is at the wheel of this car that it gained four times the Turn of France car in the Tourisme category.
Bonus DVD :
52 ' de bonus : "One Leap Ahead" film sur la fabrication à Coventry de 1959. "Cols blancs et vieilles anglaises", un film sur le Rallye Tour du Mont-Blanc organisé par le French Jaguar Drivers Club.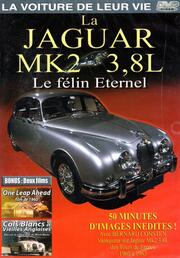 Produced by Seven Doc - Gemka - Screen Services
Out in 2,000
Director Fabrice Maze
Video format 4/3
PAL / Stéréo
Available languages :




Réf : GCB022