Peugeot 205 T16, le bon numéro
This animal of rally to the innovative concept was an integral traction, been driven by a turbocompressé central engine four cylinders 16 valves developing 340 CV. With this fantastic car, characterized by its versatility and its agility, Peugeot was crowned Champion of the World of the Rallys for marks in 1985 and 1986 and Champion of the World of the Rallys for Pilots in 1985 with Timo Salomen and 1986 with Juha Kankkunem. Champion of the world of the rallys in 1981 at the 29 years age, Ari Vatanen share its memories and its philosophy of its life. Its guest Jean Todt will accompany it in this historical evocation by the career by 2005 T 16.
Bonus DVD :
Interview with Jean Boillot, by Jean-Claude Lefebvre and Jean-Pierre Nicolas. Making of "Rallyecross : championnat de France 1989.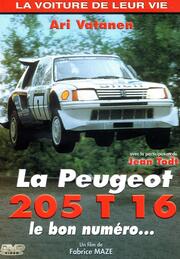 Produced by Seven Doc - Gemka - Screen Services
Out in 2,003
Director Fabrice Maze
Video format 4/3
PAL / Stéréo
Available languages :




Réf : GCB138