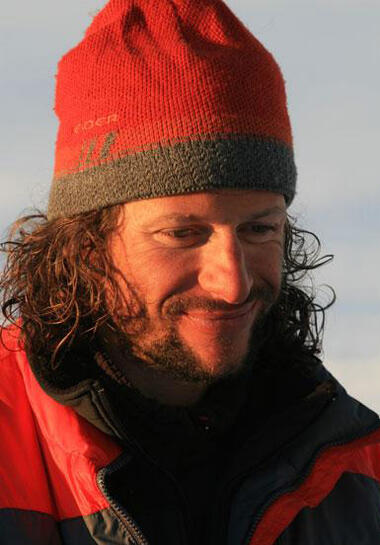 Sam Beaugey
Film-maker
With a mountain guide for a father, a former ski instructor and refuge guardian for a mother, and a paragliding instructor for an elder brother, Sam grew up at the foot of Mont Blanc. In 1994, he joined the Compagnie des Guides de Chamonix. Pitons, crampons, ice axes, wing suits, paragliding, snow kiting, skiing, and snowboarding... the hardest thing for him is to find a bag big enough to put all his toys in! Sam is an all-round mountaineer, specialising in the more "extreme" aspects: the first ski descent of the Linceul on the Grandes Jorasses (1995) with Jérôme Ruby on a snowboard, the opening in the Himalayas of Extra bleu ciel at Kwangde Shar (1995), 700 BASE jumps to his credit since 1994, attempting a snowboard descent of the north face of Everest (1998), opening the Azazel route with the Planête Big Wall team and making the first wing suit jump from the Trango Pulpit (2005)... Québec Givré (co-directed with Erwan Le Lann) and Baffin, l'île aux enfants take a light-hearted look at the mountains, light years away from the dramatic situations they are often associated with.

In 1996, you started a 16mm film project with Jérôme Ruby and André-Pierre Rhem in Norway. How and why did making films become important to you?
At that time, BASE jumping was little known to the public. Our idea with Free Base was to show the pleasure we experienced being in the mountains, both going up and coming down. Jérôme Ruby was the inspiration behind the group and it was thanks to him that I in turn wanted to tell the stories of our adventures from the perspective of the sharing and the pleasure.

When you make a film, is it more difficult to translate the sharing, the pleasure of commitment, the spirit of climbing... rather than performance and hardship?
Everything takes on a different light from the moment you decide to film. You're not just there to do things, but also to show things. The biggest danger is losing the natural feel. The images often reflect the profound atmosphere that exists within a team... except that in the midst of the action, literally and figuratively, you're not very tempted to film.

What is the film you dream about making?
A fictional film in 35mm about the story of two men and two women who have lost everything and come together at the end of the earth to go climbing.
Ses films produits par Seven Doc
Québec Givré - 2005
Baffin, l'île aux enfants - 2007