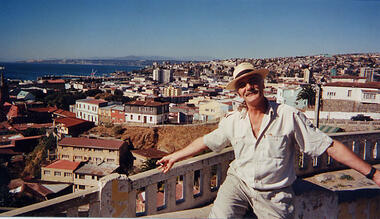 Guy Meauxsoone
Film-maker
Born in Belgium in 1956, Guy chose to settle in Méaudre, in the heart of the Vercors mountains, after spending time in England, the USA, and Mexico. A photographer by training and a passionate caver, he worked on caving programmes with Channel 4 in the 90s. Between 1981 and 2001, he made over 60 productions for all the national channels, including eighteen documentaries and news reports on South America, his favourite location. From 1996 to 2001, his travel experience and knowledge of South America served him both as producer for the TV magazine Ushuaïa Nature and as director of photography for the Okavongoseries on TF1. Today, he divides his time between making nature and animal documentaries, and production work at the Vercors TV channel. Producing De la grotte au Temple and Jésuitesau Paraguay with Seven Doc, he had the opportunity to indulge his two passions: the underground world and Latin America.

Apart from being underground, De la grotte au Temple shines a light on a world that is miles away from caving…
Your taste for exploration diminishes with age, you become closer to human beings ... And I have produced so many films on caving that it was simply time to move on to something else. France did not see the development of a cave-dwelling civilisation like that of the Anasazi in the south-west United States, or the Edomites or Nabataeans in Jordan, but it does have a rich troglodyte heritage. However, it is very little known by the general public, so this film brings it to the light of day by telling the story of ten major sites.

His films produced by Seven Doc
Baba baroga, le père des lions - 2003
De la grotte au Temple - 2004
Jésuites au Paraguay - 2003