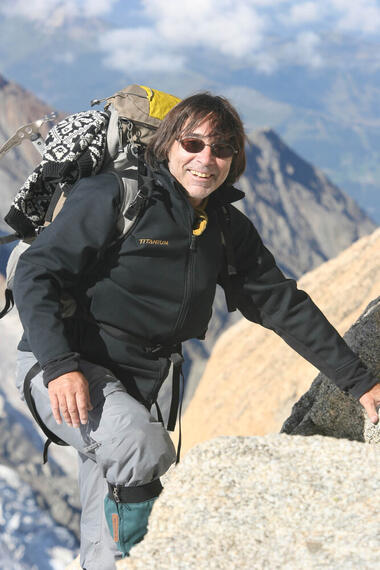 Gilles Chappaz
Film-maker
A child of the mountains, growing up opposite Mont Blanc, today Gilles divides his time between Grenoble and Chamonix. He turned to journalism by creating and developing magazines dedicated to the mountains (Montagnes Magazine, Vertical, Ski Français). At the same time, he was a television consultant (France Télévision, TF1), and worked with the press regularly (Libération, Le Monde). He was also part of the team that produced the TV magazine Montagne for FR3 from its inception in 1985; he was in charge of editing and directed several documentaries, all prize-winners at festivals. After spending four years in Paris as deputy editor of L'Équipe Magazine, he devoted himself to documentary film-making, including five productions for Seven Doc. In addition to directing films, in 2009 he was appointed to manage the Collection Montagne, book + DVD box sets devoted to those people often referred to as the "Conquistadors of the useless", launched in 2009 by Seven Doc.
How did the Collection Montagne come about?
The idea for this collection came from two desires: the pleasure of rediscovering the great mountaineering figures, and to place them within the context of mountaineering history; the other was to revive documents that had fallen into oblivion and produce recollections using modern tools, combining three modes of expression: audiovisual, written and photography.

What motivates you to go constantly on the trail of these legends of the mountains?
Having been brought up in the environment of the mountains since I was very young, I wanted to learn more. Beyond the personalities, I modestly attempt to pass on messages, to leave traces. Whether it is Boivin, Terray or Rébuffat, each in his own way had an influence on the world of mountaineering, and gave meaning to their lives. They inspire, and they set an example to every generation. For this reason I try not to focus on the past when I produce my films. The idea is to look backwards, in order to move onwards and upwards. I like to show the permanence and universality in what people have said or done. That's why my films are not biographies. They provide a subjective view of a life and in what way it is inspiring. I'm just a link-man and certainly not someone who wants to erect monuments to people! There is no spontaneous generation in the mountains, so it's sometimes good to remember that some people have opened up the way, pushed back the limits... simply showing it's possible... you just have to want to want it!