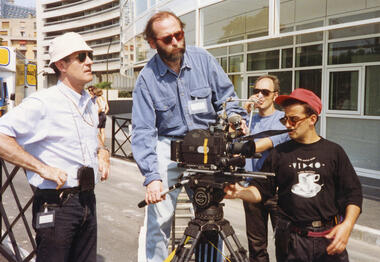 Fabrice Maze
Film-maker
Born in 1949, under the sign of Sagittarius, Fabrice Maze lives and works in Paris. After studying at the EFAP, he obtained a BA and graduated from the Training Centre for Journalists in 1973. He directed short surrealist-inspired films and was certified as a television producer in 1978. Then he shot his first documentary about the surrealist painter Yves Tanguy and until 1999 dedicated himself to his career as a television producer. Eclectic, he directed over 150 hours of programmes on scientific, literary, social and musical topics. He participated in many programmes on TF1, Antenne 2 and FR3, including Time X, Demandez la lune and Objectif Tintin. He also directed docudramas as well as cultural clips with Gonzague Saint Bris. In 1991, Canal+ commissioned a documentary from him on their headquarters at Quai André Citroën: Canal+ sur Seine. Since 1999, he has dedicated himself exclusively to writing and directing documentaries, focusing on three themes: the history of the automobile, spirituality and the history of art (including the history of Surrealism), which are developed and produced by Seven Doc.
Historical consciousness is a major theme running through your films. Is this a way of remaining alert?
In 1999 I decided to devote myself to heritage programmes. It's an area that is largely neglected by television and the media, and it's not uncommon to see great minds, inventors, researchers, artists and important players in modern history disappear without any audiovisual trace. While my favourite subjects may seem contradictory in appearance, this is due to my great curiosity and interest in testimonial journalism. Passion and enthusiasm are the common denominators in everything I do. We are living in an exceptional period of history, which is the beginning of a change in civilisation. The twentieth century saw the beginnings of aviation, the automobile, radio, television and the development of atomic energy, extraordinary advances in medicine, physics and astrophysics. Also in the arts, the twentieth century has brought us exceptional geniuses. We must make a record of all this and especially do what others do not or cannot do. We often lack the time and means to achieve all the things we would love to do. But I have already had the pleasure and responsibility to work on five films in Collection Phares, to continue the series "La voiture de leur vie", and to dedicate myself to personal subjects on astrology and spirituality. It's a great way to remain alert... and enjoy life!

His films produced Seven Doc
Arts and culture
André Breton
Jacqueline Lamba
Robert Desnos
Yves Tanguy
Marcel Duchamp
Spectacle
Léontina Vaduva
Motor : the car of their lives
2 CV avec Jean Malard
Jaguar MK II avec Bernard Consten et José Rosinski
R8 Gordini avec Jean Vinatier
Lancia Stratos avec Bernard Darniche
Berlinette Alpine-Renault avec Jean-Luc Thérier
Golf avec Michel Le Paire
205 T16 avec Ari Vatanen et Jean Todt
DS avec Bob Neyret et Jacques Terramorsi
Traction avec Olivier de Serres
Matra, la puissance et la gloire
La Nationale 7, 40 ans après
Tractionades
Spirituality
La petite Thérèse
Sainte Thérèse de Lisieux
La force de la foi
Gabarrou, pèlerin des cimes