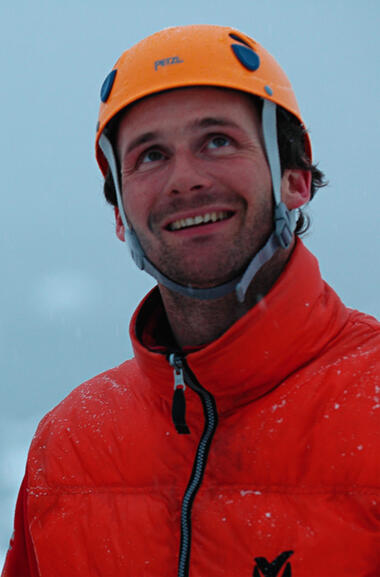 Erwan Le Lann
Film-maker
A mountain guide and event and sponsorship manager for Petzl, Erwan, 37, has participated in numerous films, both in front of and behind the camera. After several years of top level mountaineering, he quickly realised that all the clichés about mountaineering he'd heard did not fit in at all with what he experienced with his climbing partners. So he decided to buy a camera to show his friends the joyful atmosphere, the fun, the sincerity and the intensity of his climbing stories. After his "climbing holiday" films, he launched into his first "real film" in 2001 with Douceur d'été en Patagonie, a film that recounts his winter ascent of the Fitz Roy Super-Couloir (a tough route for serious climbers), with Jérôme Blanc-Gras and Max Berger, following in the footsteps of Lionel Terray and Guido Magnone... Erwan is a poised and thoughtful person, and so it was, that four years later, in 2005, he finally made the move to create a "real, true director's film": Québec Givré.
So, Québec Givré is the culmination of four years of reflection?
The problem wasn't necessarily bringing the filming equipment to the mountains; I never leave on an expedition without my camera and every time I come back with hours and hours of raw, unedited tape... Filming is one thing, but editing, distributing, just making a film, that's the hard part... I'm speaking really about what it costs in terms of money, time and personal investment. Writing is different. I think that in sport it's good to have a guideline for a project, but the most important thing is getting the right people together for the story to be written, or to deliberately complicate the organisation to come up with situations that are funny, original, and interesting... Little by little we got the Québec Givré project together with Sam Beaugey. We wanted to find a way to connect our various activities into the same project, which was why we went looking for that ice fall we baptised "The Apartment", which was steep enough for us to BASE jump from the top of it.

What are your sources of inspiration in terms of images and writing?
I don't think I'm a dreamer, but I do have desires that I like to put into action. Today I want to combine sailing, climbing and BASE jumping. So I'm looking for a place, then a team. I am looking for the original side of the whole thing to give me a sense of the narrative and above all I trust that things will turn out right during filming.
His films produced by Seven Doc
Québec Givré - 2005