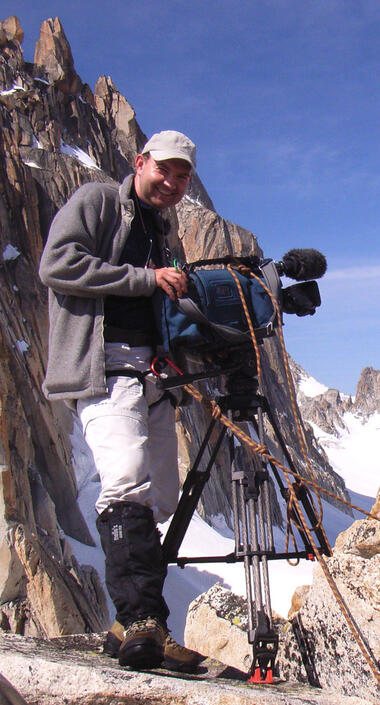 Didier Hill-Derive
Film-maker
Didier Derive-Hill was born on August 9th, 1971 in Schaerbeek, Belgium. In 1989, he started at the INSAS (Institut National Supérieur des Arts du Spectacle) in Brussels, in the Image department. During those three years of training, he acquired the basics of shooting (for film and television). It was documentary reporting, his chosen field, which guided his activities as an operator from 1993. In January 1996 he went freelance, putting his experience as a cameraman at the service of weekly or monthly television programmes. The show Strip-Tease, for which he filmed over 80 reports, allowed him to expand his activities as operator into shooting numerous documentaries produced in France. By 1996, he was directing his own films. Attracted by the little-known story of the removal of church bells in Belgium during the Occupation, he directed his first documentary in 1996: Sauveurs de Cloches (1996). Ten years later, with Seven Doc, he completed Des Hommes sur la Montagne, a 53-minute documentary tracing a century of passion for the profession of mountain guide.
What brought you from your "flat country" to end up making a film about the profession of mountain guide?
I earn my living as an operator for reports and documentaries. In everyday life, I'm "at the service" of other people's films, which doesn't stop me from wanting to be the director of my own films. This can only be done when I'm approaching a subject which is so close to my heart as to be irresistible. I had to combine my accumulated experience as an operator with the desire to make a film whose subject has its source in my own life. During numerous trips in the high mountains since I was young, I had the opportunity to meet many guides. Their job fascinated me to the point of making me want to devote a film to them. Coming from a "flat country", I started by asking myself about the journey that a young Belgian who dreamt about this profession would have to make.

And you met the film's central character...
Yes, Quentin Delavignette. I didn't let him out of my sight all the way through the process that made him a guide today. Also, I didn't want to limit my documentary approach to this profession to the training of a young graduate from the ENSA. I wanted the process of following the course to become a guide to be seen in relation to the ways in which this profession is changing. So I created a film where the development of future guides is set against the activities of experienced guides such as Gilles Ravanel and Philip Bonano, who have quite different approaches to their job. This helps to provide texture to this role of guide, which is a profession that is constantly mutating with the times, depending on the guides' personal backgrounds and the development of the mountain recreation economy. In the end, over the course of the meetings within the narrative, I think that this is a film primarily about a passion for the mountains and the fragility that goes with it. The only title possible was Des Hommes sur la Montagne...
His films produced by Seven Doc
Des Hommes sur la Montagne - 2007