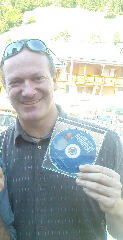 Denis Steinberg
Editor/Film-maker
After spending nearly fifteen years as an editor at France 3, notably for the magazine Montagne, he participated in the creation of the first digital post-production room at the Winter Olympics in Albertville in 1992, which he managed until 1997. For this, he collaborated in many films either as editor or producer. In July 1997, with his partner Frederique Steinberg, he founded MedeO, directing most of the company's productions: documentaries, corporate and community films. In 2006 he worked with Gilles Chappaz on the documentary Boivin, extrêmement vôtre, for which he did the editing. Three years later, he edited La voie Terray. He then took on the role of director, in tandem with Gilles Chappaz, on Le monde de Gastonand Tant qu'il y aura des Gruss.
Editor or director? What is your true profession, your skill?
I control the image chain, from shooting to post-production. I'm always aware of the latest techniques, but basically I have a classic background in writing via images.

For Le monde de Gaston and Tant qu'il y aura des Gruss, you also co-produced. How did you deal with that in the editing room?
Co-production is not just a question of editing; I've followed through all the projects that I've co-directed with Gilles Chappaz from filming right up to mixing. I also shot some sequences for those films. Due to time constraints, I haven't yet done a 52 minute feature film, but I'm going to catch up for sure...
His films produced by Seven Doc
Boivin, extrêmement vôtre - 2006
La voie Terray - 2007
Le monde de Gaston - 2009
Tant qu'il y aura de Gruss - 2010