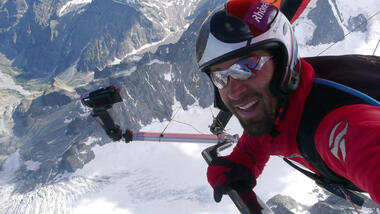 Antoine Boisselier
Film-maker
Born in 1980 in Saint Hilaire du Touvet, Antoine Boisselier is one of the young film-makers that Seven Doc has accompanied since their first films. An international-level hang glider pilot from 1999 to 2009, he began a gentle change of direction in 2005 with Cinédoc, training in documentary making. In 2004, along with Guillaume Broust and Bruno Bourdat, he started out on the docu-fiction Flying Babouches, a delirious fictional tour of Morocco which won awards at several film festivals (Icares du Cinéma, Imagin'air, Santander, Payerne, Auron, etc.). In 2006, he directed a short film for Seven Doc, entitled Speed Riding, attack à Powpow Land. No longer taking part in competitions these days (through he occasionally re offends: he was champion at the Federal Hang Gliding Cup in 2010), he recently co-produced, alongside Christophe Tong-Viêt, Le Nid, a 52 minute docu-fiction recounting the life and feats of rare birds nesting on cliff sides, in Saint Hilaire du Touvet, the Mecca of hang gliding and paragliding.
Free flight is your entire life and also the topic of your films: is that an advantage or a disadvantage?
When I get an image in my mind, the big advantage for me is that I can film them myself, either in front of, or behind the camera. I've always been inspired by a passion for images. Starting with my first solo flights, I'd take a stills camera, then a video camera... not a great one, but a video camera all the same! In 1999, during the filming of Red Blues, the director Guillaume Broust said to me in the middle of the flight "Take the camera! I'm going to do a dive…" and from that day I decided to go all the way into film-making.
What are your sources of inspiration?
Apart from my two daughters, I draw my inspiration from Mother Nature. A sunset… flying with eagles above the clouds, or many other surprises which are unique moments that I like to share through my films. In fact, I've been telling the story of my flights since I was very young. Photographs, articles, films... any way I can find to share my passion.
And now you've made Le Nid with Christophe Tong-Viêt and Nicolas Assaël...
Le Nid is like the movie of my life ... Let's say that adds a touch of apprehension! In fact I hope that it is completely fair, well received by my peers and the next generations who will follow in our trail. This film is an opening to new disciplines, apart from paragliding and hang gliding, allowing non-powered free flight such as snow-kiting, speed-riding and BASE jumping during all four seasons, but it is also a discovery of the particular spirit which reigns on the Plateau des Petites Roches. The touches of humour in the fictional scenes filmed with the students from the St Hilaire primary school create a lively and rhythmic pattern, so that this film can be seen and appreciated by the greatest number of people: first of all specialists, but also, and above all, neophytes, who I hope will feel their wings grow after seeing it.